TESTIMONIALS
- read our customer healing stories -
---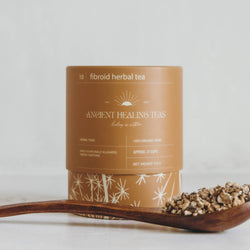 -Carolotta, Womb Detox Participant
"Since starting the Fibroid Elimination Program, I have seen tremendous changes that I had begun to think were not possible. I was diagnosed with fibroids about 2 years after my period started when I was 16. Over the years they grew and grew, causing heavy and long periods lasting up to 14 days. My uterus had grown to the size of a 5 month pregnancy, I was taking 1300 mg of iron daily, and I had terrible cramps and pain before, during and after my cycle. It was a nightmare. Finally, about 3 years ago, I had lost so much blood I needed a blood transfusion. I was so tired of it all but I wanted an alternative to another transfusion or a hysterectomy. I stumbled on the program by way of my interest in the practice of yoni steams. After my initial session, Amanishakhate informed me of the FEP.

Over the course of those 3 months, my total change in diet, coupled with the frequent yoni steams, and the teas, I experienced an entirely different menstrual cycle. For the first time, in month 2, my period only lasted for 7 days with only the first 2/3 days being really heavy. I felt a mild discomfort but my cramps were gone. It was almost like I didnt have a period. I also started using natural pads (The Honey Pot-black female owned). I have not had any pain before or after my period. I stopped taking the iron supplements and the otc pain meds for cramps. My iron levels have stayed normal. The teas and the steams help to build your blood as well as improve the circulation in your womb area. I also increased my daily water consumption and it has done wonders to help me on my healing journey. Thank you for empowering me to seek natural healing modalities."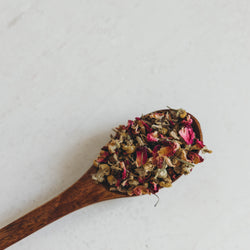 -Ashley, Womb Detox Participant
"Ancient Healing Teas has done wonders for me! I recently finished my Women's Wellness Detox program and I feel completely different than I did 3 months ago! I never would've thought that I would take part in something called "yoni steams" but they have been absolutely freeing for me! Before this program I had major problems with digestion, feeling heavy and bloated all the time, mental fogginess, cravings and painful periods. Now my periods are better, I don't have that heavy bloated feeling, and I have mental clarity that I haven't felt in a long time and a lot more energy. As a collateral result, I've also lost 20 pounds! Working with Amanishakhete has been amazing during this program. She really listens and helps you do the inner work that is needed to go through this program and beyond. She is so knowledgeable and answered all my questions in a timely manner day or night! She provides a safe space for you to learn to love yourself and your body more. She reassures you that it's a process and will take time. And she reminds you to be gentle with yourself and allow yourself the time to heal. I've had a very wonderful experience and plan to continue with her products!"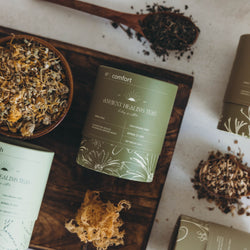 -Dezerae, Womb Detox Participant
"Ancient Healing Teas has truly guided me into my journey to clean eating and better health. In the past, I have struggled with many issues such as BV, Yeast Infections, Excessive Mucus and PCOS. Queen Amanishakhete has changed all of that for me. In the last three months I have not had to visit my gynecologist for any feminine concerns. Any issue that I was struggling to fix has began to dissolve with the help of her Ancient Healing Teas and Womb Detox. This has been amazing because prior to seeking her help, complications from PCOS had truly made me feel helpless and hopeless. My pain was so debilitating that it was a struggle to get out bed and complete basic task . Today, I can honestly say through her system, it is far easier to rise and function. I am hopeful each day that with the help of Ancient Healing Teas program I will completely rid of PCOS and all illnesses connected to my womb. I trust that Queen Amanishakete will lead me into the health I need to reproduce, which is a dream I have lost long ago in the Health System."
-Breon, Monthly Member
"For the past 3 months, I have been drinking the teas and learning from Amanishakhete through wellness consultations (twice a month) about how to take gradual steps towards more natural eating habits, eating whole, unprocessed foods, the importance of drinking more water and getting more fresh air, and especially improving my menstrual and digestive health. I can say without a doubt that since March when I started the teas, my menstrual symptoms (painful cramps, nausea, back pain, diarrhea) have mostly disappeared (except for being lethargic). The increase of nutrients I get from the teas were definitely the answer to soothing the discomfort I had to face every month. I will continue to drink the teas, especially the Women's Wellness Tea and I would advise anyone, particularly women, looking to take their health and wellness journey to the next level to not only try her teas but have wellness consultations with Amanishakhete. I'm really grateful that she gave me the opportunity to try them and learn from her."
-Layla, Monthly Member
"I recently started drinking Ancient Healing Teas and it's been one of the best decisions I've ever made. I booked a consultation with Amanishakhete, and she was really helpful in helping me choose the best tea for my health goals. My favorite Healing Tea is the Gentle Colon Cleanser. I started seeing results within the first two months. I've seen a curve in my appetite and it has been aiding in my weight-loss goals. Overall I feel a lot healthier and I love Ancient Healing Teas."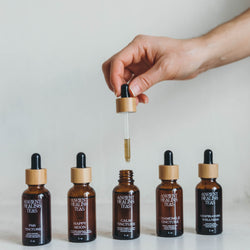 -Nikkita, Monthly Member
"I am extremely grateful for Ancient Healing Teas. I had a consultation with Amanishakhete about my hair, skin, and nails. She made a tea specifically catering towards that consultation. After a month and a half, I feel healthier. I also feel a more hydrated difference in my hair, skin and nails. Once again I am truly grateful and I am so excited about my health journey with Ancient Healing Teas."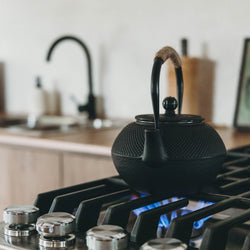 -Kesha, Monthly Member
"Ancient Healing Tea has been a blessing! Before starting the tea, I suffered from chronic pain. Within 30 days, experienced increased energy and my pain was reduced, considerably."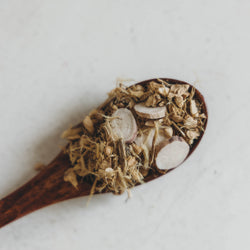 -Lola, Monthly Member
"I've been drinking Ancient Healing Teas for a few months and I'm really glad I tried it out. Amanishakhete is really knowledgeable and inspires me to live a healthier life. My favorite tea is the Gentle Colon Cleanser. Since I've been drinking it I've been much more regular, lighter, and healthier. It's definitely worth it."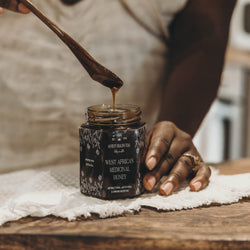 -Yvonne, Monthly Member
"I would like to thank Amanishkhete for her service through Ancient Healing Teas. I feel amazing, have increased energy, and I am enjoying the wellness journey!"
-Ebony, Monthly Member
"I have been drinking Ancient Healing Teas for a few months now, and I feel absolutely amazing. I have much less of an appetite and can workout even longer. I run at least 12 miles a week. I love that it's a natural alternative to commercial energy drinks and I have not experienced any side effects. I love their teas and will continue to support."
WHICH PRODUCT WORKS BEST FOR YOUR BODY?


Schedule a consultation with our Queen Herbalist if you would like more information on how our products can support your holistic healing.

BOOK HERE